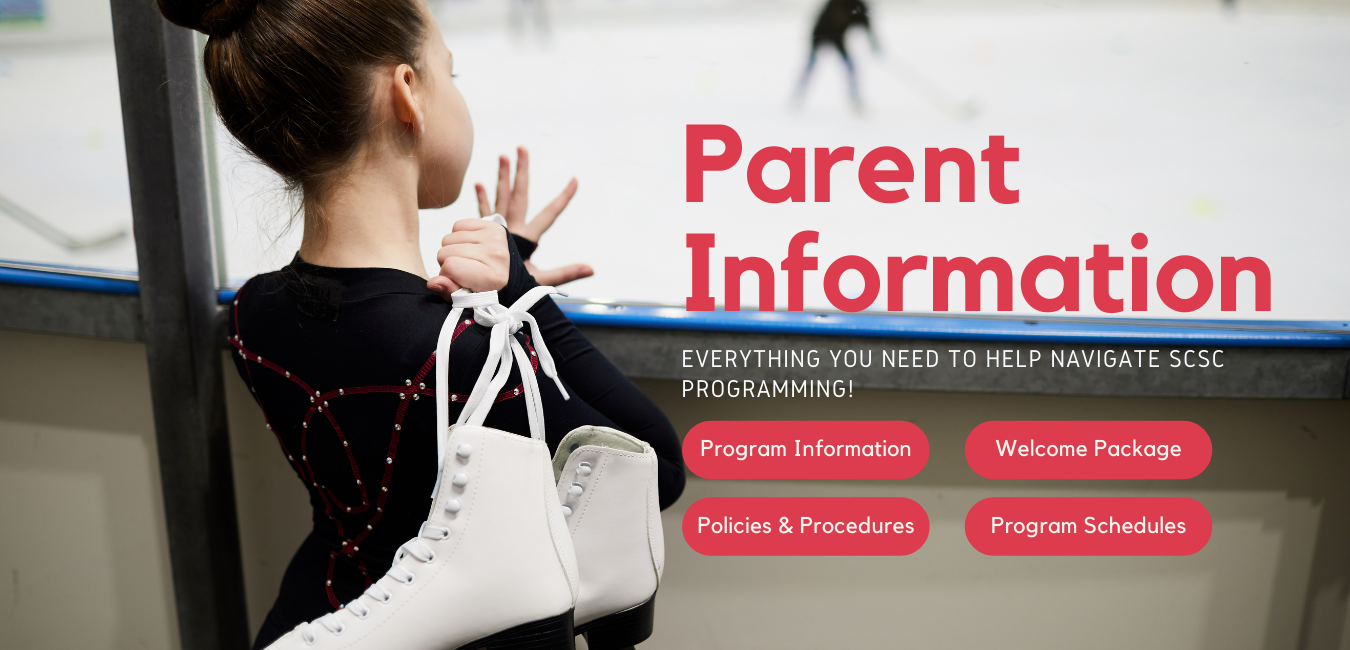 Thank you for registering you child(ren) with the Sunshine Coast Skating Club!
We are very excited to get this season underway but first, here's some important information you'll need to know about The Sunshine Coast Skating
Club's Programming!
Important Parent & Skater Documents:
Program Days/Times/Location:
Coming soon!
SCRD Facility Guidelines:
Masks are no longer mandatory but recommended for anyone not vaccinated while off the field of play
Physical Distancing is no longer required
Capacity limits while on the arena surface have been removed
The flow arrows have been removed and users may again enter and exit through the lower lobby to the parking lot
Water fountains will be open
Spectators are welcome to watch their skaters from the bleachers.
The SCSC would like to remind everyone that parents/guardians are not permitted at ice level (as per Pre Covid Protocols) with the exception of CanSkate/Jr A parents that need to tie skates before moving upstairs.
EQUIPMENT REQUIREMENTS:
CanSkate Equipment:
CSA Certified Helmet (Skating or Hockey Helmet) ***NO Bicycle Helmets Permitted!
Skates (Of Course!)

Gloves ***Warm Gloves not only keep their hands and fingers warm and cozy but also protect them from accidental cuts from sharp skates.
Warm Clothing- Try to avoid dressing them in restricting clothing.

Dress in layers so your skater can remove clothing as they warm up!
A Good Attitude! Attitude is everything!
CanPowerSkate Equipment:
Skaters must be dressed in full Hockey gear for the program- including stick!
All CanPower Participants must wear a CSA Approved Hockey Helmet

.
Junior Academy Equipment:
CSA Approved Hockey Helmet or HALO
Fitted Pants/Dress and Jacket
Gloves
Skates and Skate Guards (Hard Guards for Walking to and from the Dressing Room)
Skipping Rope and Running Shoes for Warm Up
STAR/Competitive Equipment:
Fitted Pants and Club Jacket
Gloves
Skates and Skate Guards (Hard Guards for Walking to and from the Dressing Room)
Skipping Rope and Running Shoes for Warm Up
Note Book and Pen
Volunteers:
The Sunshine Coast Skating Club is run 100% by dedicated, hard working individuals who love SKATING!
But we can't do everything, WE NEED YOU!!!
If you have a skill, or a preference on volunteering please contact any of our Board Members to let them know how you can help.
There's always a way
to pitch in, between CanSkate Session Chairs to Fundraising to helping with the Year End Performance, every little bit helps!
What the SCSC Stands Behind:
Healthy Lifestyle
Skating instills a love of physical activity that contributes to the health and happiness of all who participate.
Life Skills
Goal-setting, discipline, perseverance, and lessons about competing with integrity, winning fairly and losing gracefully are skills that are
valuable in all aspects of life.
Building Community
Pursuing learning and reaching goals in the company of others creates a sense of community and a willingness to give
back to one's larger community.
Creativity/Innovation
The collaborating process between coach and athlete, instructor and skater, ice and movement is integral to innovative
physical and aesthetic self-expression.
Excellence
Excellence is being the best skater, competitor, coach, official, administrator or leader you can be.
We hope you have an awesome Skating Season!
See you at the rink!
Bottom Content Title
This is an additional section to be able to add content